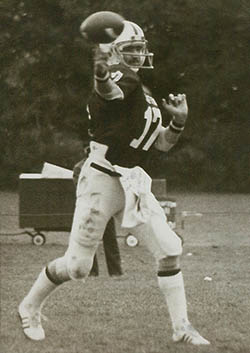 A three-year performer at quarterback for Bluffton, Mike Kelly steadily climbed up the list of top career passers. When he graduated in 1980, Kelly ranked third in career completions (95), fourth in career attempts (242) and fifth in career passing yardage (1,028). He was just the sixth player in Bluffton history to pass for more than 1,000 yards and today ranks 17th on the career passing yardage list.
After graduating with a degree in health, physical education and recreation, Kelly held college coaching positions at Edinboro, Marietta, Ohio Wesleyan, Capital and San Francisco State before going to the professional ranks as offensive coordinator of the Winnipeg Blue Bombers of the Canadian Football League from 1992-96. He returned to the collegiate level as head coach at Valdosta State from 1997-99 before returning to the CFL in 2000 with Edmonton.
In 2001 he was the offensive coordinator of the Orlando Rage of the XFL, before joining the ranks of the National Football League as a pro scout with the Philadelphia Eagles. He was also an offensive assistant coach for the Eagles before moving on to the Washington Redskins, then back to the CFL.
A native of Muncie, Ind., Kelly is a member of the Delaware County (Ind.) Athletic Hall of Fame. He has been published many times in football coaching magazines and has a tremendous history with charity organizations, including the Juvenile Diabetes Foundation.