Abe Mast played basketball, baseball and golf at Bluffton, earning four letters in each while coached by his brother, Ken. He also played basketball, football and baseball at Wadsworth High School, where he was inducted into the Sports Hall of Fame in 1983.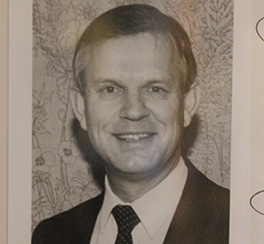 An art major, Abe spent 10 years as a health and physical education teacher and an assistant and head basketball coach at four high schools in northeast Ohio. He compiled a 134-51 record before leaving education.
After working as an insurance agent until 1972, he established Graphic Publications Inc., which published five weekly, free community newspapers in the Millersburg area.
"Bluffton, as a small liberal-arts institution, provided me an opportunity to expand my horizons on a variety of fronts," Mast said. "Certainly, my participation in intercollegiate athletics played a role in helping develop skills and attitudes reflective in my coaching, teaching and business careers. Bluffton also allowed me to diversify my interests through participation in dramatics and music. These experiences, nurtured in the Bluffton environment, helped provide a sound foundation for my family life, my vocational life and my Christian life."
Mast has been a member of Community Papers of Ohio and West Virginia, the Millersburg Chamber of Commerce and the Berlin Area Business Association. He has been commissioner of the Holmes County Little League, chair of both the Holmes County Cancer Crusade and the Longest Day of Golf for the county American Cancer Society, and a member of the Ohio Conference Renewal Committee. He has also been a member, elder and Sunday school teacher at Martins Creek Mennonite Church, Millersburg.