Elaine (Aeschliman) Moyer came to Bluffton as a transfer student from Hesston College and played one year of volleyball and two years of softball. The Archbold High School graduate was a health, physica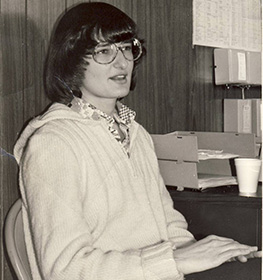 l education and recreation major at Bluffton who also holds a master's degree from Marshall University—with a physical education major—and a principal's certificate from Temple University.
Moyer taught at Lima South Junior High School from 1973-75, was a graduate assistant at Marshall in 1975-76, an assistant professor of HPER at Bluffton from 1976-79 and 1980-83, and a registration and scheduling specialist at Indiana University in 1979-80. She then served as principal at Christopher Dock Mennonite High School in Pennsylvania.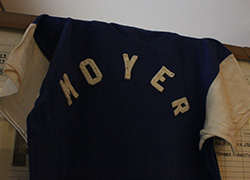 She coached volleyball and tennis at Bluffton from 1975-79 and led the women's track team from 1981-83. She also was director of women's athletics, HPER department chair, the first president of the Western Buckeye Collegiate Conference and a volleyball official for six years. Her volleyball teams were 17-18, 23-16 and 15-8 in three years, a 55-42 record that marked the beginning of a winning era in Bluffton sports.
Moyer received the Phi Epsilon Kappa Scholarship Key Award. She also served as vice president of the Bicentennial Athletic League.