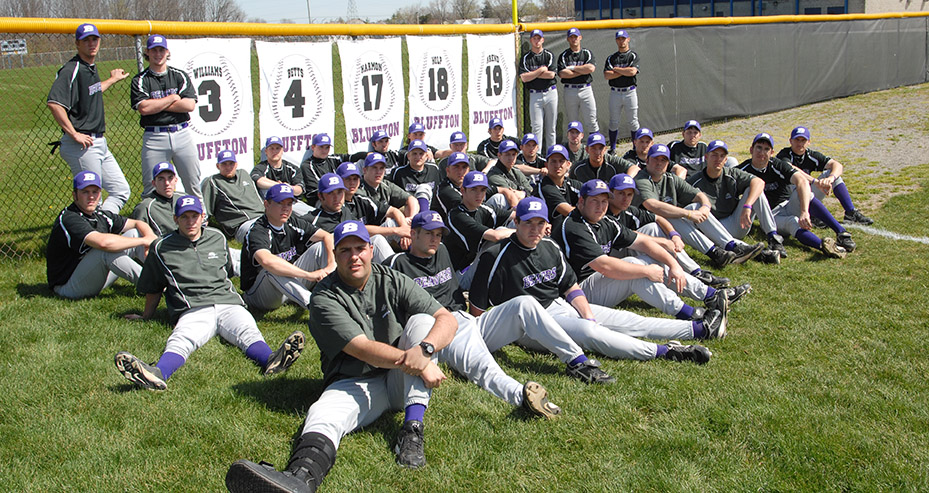 On March 2, 2007, the Bluffton baseball team experienced an accident that forever changed the lives of the players, coaches, their family and friends and the Bluffton campus community. While traveling to Sarasota, Fla., the baseball team's charter bus fell from an overpass in Atlanta, Ga., killing student-athletes David Betts (Bryan, Ohio); Scott Harmon (Lima, Ohio); Cody Holp (Arcanum, Ohio) and Tyler Williams (Lima, Ohio); and the bus driver and his wife. Twenty-eight others were injured. Student-athlete Zachary Arend (Oakwood, Ohio) died one week later.
That single moment changed lives. But from that moment, a sea of moments arose. Hundreds of thousands of moments when complete strangers lent a helping hand. Moments when friends, family and community members gathered to lean on one another. Moments when the Bluffton baseball players, coaches and campus community realized that an entire world outside of Bluffton was supporting them, praying for them, wishing them well.
These words were penned for the "Bluffton" magazine one year after the accident. They remain words that are no less true now than they were in 2007.
The 2007 team demonstrated remarkable courage and strength in responding to the accident including completing the 2007 baseball season under difficult circumstances. In 2010, the team was recognized by the NCAA with the Inspiration Award, presented "to a coach, administrator or athlete who, when confronted with a life-altering situation, showed perseverance, dedication and determination and now serves as a role model to give hope and inspiration to others."
The team was the first team to be honored by the NCAA with this award and was recognized for their courage in returning to the baseball field only 28 days after the fatal bus crash. Of the 25 surviving student-athletes who were on the bus, 24 graduated. One left the university in 2008 to play minor-league baseball.
The Motorcoach Enhanced Safety Act introduced by Sen. Sherrod Brown (D-Ohio) became law in 2012, and it was announced among other things, the legislation will require lap and shoulder belts in all new motocoaches beginning in November 2016. It also requires stricter qualifications for drivers and more stringent vehicle inspections.
This recognition is another way to remember the experiences of the 2007 team. While the events of that year must always be remembered as a tragedy, through the persistent advocacy of many, we are encouraged that required enhancements to motorcoach transportation safety will help prevent tragedies for other families.
In 2014, Advocates for the Highway and Auto Safety, a national non-profit advocacy organization, recognized the 2007 team and families with its Highway Safety Hero Award for leadership and determination to enhance motor coach safety. John and Joy Betts, parents of David Betts (1986-2007) attended the awards ceremony in Washington, D.C., and accepted the award which is inscribed as follows:
25th Anniversary – Highway Safety Hero
Families of the Bluffton University Motorcoach Crash
In recognition for your contributions to savings lives,
Preventing injuries and making our roads safer.
June 18, 2014
The Hall of Fame committee voted unanimously to nominate and honor the 2007 team as the sole inductee in their first year of eligibility. All members of the team, including Zachary, David, Scott, Cody and Tyler and all managers and coaches were inducted as a team into the Bluffton University Athletics Hall of Fame on Feb. 18, 2017.