With a 15-5 record, the 1981-82 women's basketball team has the best winning percentage in Bluffton women's history. Unfortunately, the team was not in a league at that time, and there is no record of postseason individual honors.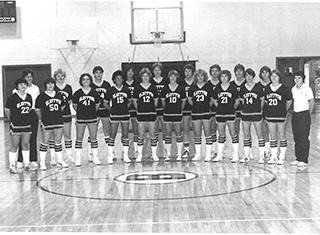 Coach Kim Fischer's team also holds school marks for points per game (77), winning margin (11.5), field goal percentage (.445) and single-season winning streak (six).
Individual statistical leaders included Cheryl Althaus in scoring, Venessa Beach in rebounding, Tina Verhoff in field goal percentage and assists, and Amy White in steals. Althaus and Verhoff, members of the Athletics Hall of Fame along with White, are near the top of the career scoring list, and Verhoff is also near the top in career rebounding.