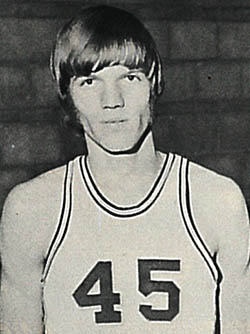 Clair Recker was the high scorer on three of the highest-scoring men's basketball teams in Bluffton history, from 1970-73. He held the season and career scoring records for 13 years and still holds records on the single-game and season lists.
Recker earned first-team All-Mid-Ohio Conference honors and second-team All-NAIA District 22 recognition as a sophomore. As both a junior and senior, he was first-team All-Hoosier-Buckeye Collegiate Conference and first-team all-district.
Recker averaged 20.3 points per game for his career and led Bluffton in scoring for three seasons. He was the first player to score 40 or more points in a game twice and six times scored 35 or more, another Bluffton mark. His most memorable game was against Malone in 1972-73, when he set the then-single-game scoring record with 44 points in Bluffton's only NAIA District 22 playoff victory.
Recker, who majored in English, coached junior varsity basketball at Cory-Rawson High School for a year and varsity basketball at Leipsic High School for four years. He then entered private industry in management.