The late Dale "Rick" Reichenbach earned four letters in tennis and three in basketball at Bluffton. He was undefeated one year as the Beavers' top tennis player.
Reichenbach, who earned a maste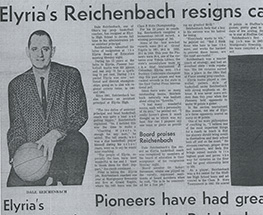 r's degree in education from Bowling Green State University in 1952, was an educator for 36 years, eventually becoming principal of Midview High School.
As a high school basketball coach at Montgomery Local Schools, Grand Rapids and Elyria, Reichenbach accumulated an overall record of 346-100. At Grand Rapids, he coached his team to four league championships and the Ohio Class B championship in 1951. He coached nine Elyria teams to the regional tournament and three to the state tournament, with one state title.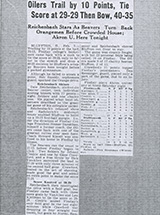 Reichenbach, who died in 2001, was the Associated Press Class AA Coach of the Year in 1959 and coached the North All-Star team to victory over the South All-Stars in 1961. He was inducted into the Elyria Sports and the Ohio High School Basketball Coaches halls of fame.
"At Bluffton, athletics taught me to realize the importance of team effort, leadership and dedication, and the need to live harmoniously with others in a sometimes conflicting and highly emotional setting. The ultimate satisfaction is to take these lessons and use them in solving problems of everyday life," Reichenbach said.
Save