A four-year letter winner in volleyball and one-year track participant, Deb (Wagner) Hucke anchored three Western Buckeye Collegiate Conference championship volleyball teams at Bluffton. She earned three All-WBCC selections, three All-NAIA District 22 selections and was the WBCC Player of the Year in 1988.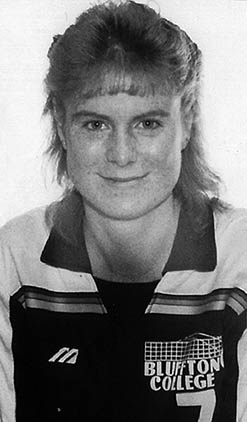 Hucke's volleyball career spanned four of Bluffton's most successful years, which produced a 125-31 overall record for a .801 winning percentage. Bluffton won the WBCC championship in 1987, 1988 and 1989, and in 1988 the Beavers added the NAIA District 22 title. The 1987 and 1988 teams have been enshrined in the Athletics Hall of Fame.
Team success during those years was a result of the play of Hucke, whose performance still ranks among Bluffton's best. In 1989 she led the team with 129 blocks and a serving percentage of .931. She also ranks high on the all-time lists of single-season kills (305 in 1987 and 271 in 1988); career kills (1,054); career hitting percentage (.192); single-season blocks (129 in 1989 and 115 in 1986); and career blocks (355).
In 1989 she received the Kathryn E. Little Award as the outstanding senior female athlete at Bluffton and was honored as the varsity athlete with the highest scholastic record.
After her graduation, Hucke divided her time as a homemaker and administrator and teacher at Wee Care Day Care in Celina, Ohio. She has also volunteered at Immaculate Conception Catholic Church and has devoted time to the Celina Public Preschool.
"Bluffton has shaped the many facets of my life," she says. "First, my volleyball career helped to intensify my leadership skills, work ethic and love for sports while giving me lasting memories. At the same time, my Bluffton experience led to my current family and various professional opportunities."