Today, the late Dietrich "Dick" Rempel is known for his industrial design innovations, including the system that revolutionized the process of making rubber products. When he was at Bluffton, however, he was noted as a 203-pound tackle who wouldn't stop until he had his man.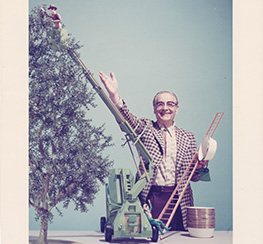 Rempel fled Russia in 1923, following that country's revolution. Although he, his three sisters and a brother escaped, his parents and two brothers died. After working on a farm in Pennsylvania, he joined his uncle in California. He did not let his new country nor new language handicap him. He graduated from high school in less than the usual required time and, when he came to Bluffton, he played in the first football game he saw. He played tackle for the Beavers and was second-team all-conference his senior year. He also ran track.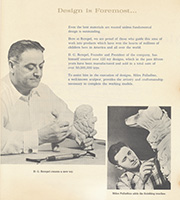 Coach A.C. Burcky remembered one incident when Bluffton traveled north to play Bowling Green. "I told Rempel that when we kicked off, we had to get the man who was carrying the ball," recalled Burcky. "In this particular game, we kicked off and Rempel was hit by a blocker. Before we realized what was happening, he literally picked up the blocker, tossed him aside and went after the ball carrier!"
Off the field, Rempel's love was working with Dr. John P. Klassen and studying sculpture. Rempel's final piece was "Horse and Fallen Rider," which portrays a Cossack's charger mourning over his fallen master. It was accepted for exhibit by the Pennsylvania Academy of Fine Arts and today is on display in the Musselman Library.
In 1929 he gra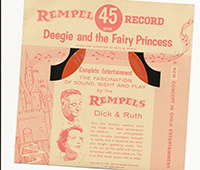 duated and became a United States citizen.  He went to New York and attended the Master Institute of Roerich Museum–The School of United Artists, and was a student in the life class in the department of sculpture of the Beaux-Arts Institute of Design.
In 1946 he started Rempel Manufacturing Inc. The business started with the production of three rubber toy animals, designed and molded from clay by Rempel. They were made with the revolutionary rubber processing system that created seamless rubber products.  He has since obtained numerous patents and copyrights for his industrial designs.
According to Rempel, two Bluffton teachers greatly affected his life. "Dr. Klassen inspired me, and much that I have done is because of his teachings. Of course, I enjoyed playing football.  Coach Burcky is a great person, and I learned through him how to lose gracefully."