The late Fred Liechty played three sports at Bluffton after graduating from Berne (Ind.) High School. He lettered twice in football and four times each in basketball and baseball.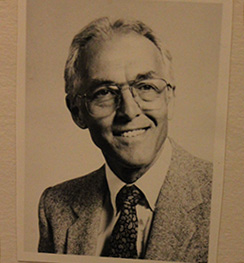 In baseball, he was the leading hitter all four years and posted a .577 average in 1948. His other extracurricular activities included Student Christian Association, Men's Glee Club and May Day chair in 1949. He was also voted Most Popular Man on campus in 1950.
Most of Liechty's subsequent career was spent at First Bank of Berne, where he served 16 years as cashier, 23 years as a director and 12 years as president before retiring in 1993.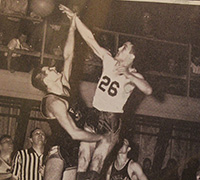 He was active on the Adams County Migrant Committee and the First Mennonite Refugee Resettlement Committee. A Sunday school teacher for 41 years, he had also been president of the Mennonite Choral Society and was a Mennonite Biblical Seminary board member for 17 years.
Liechty, who died in 2012, credited Bluffton with helping him grow and mature, saying he had been impressed with the friendly attitude of people on campus. He also noted that his exposure to Mennonite thinking about service and peace issues changed his position on the military draft. "Bluffton became my family for four years and gave me values that have shaped my life and that of my family," he said.