The late Harry V. Jump distinguished himself early on as a leader. During his freshman year at Bluffton in 1932, he managed to play football, basketball and tennis; get elected as class president; and become actively involved with the YMCA and Student Cabinet.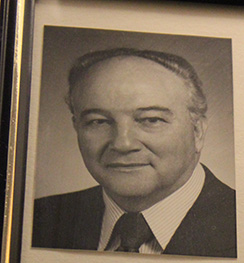 Jump was noted for playing a key role in the success of athletic teams in 1932. The basketball team, for instance, tied with Findlay for second place in the Northwest Ohio Conference. Jump, a stellar forward, was praised for his all-around play.
In football he was the answer to Coach Burcky's prayers when the previous year's quarterback graduated. "Jump not only called a perfect selection of plays but passed the ball with a keen eye and scampered for many long runs that netted scores," noted the Ista yearbook. Jump and his teammates won the first conference championship in the history of the college with a 3-2-2 season.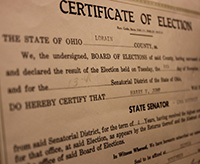 His tennis agility was a positive addition to the men's team and, for the second year in a row, the Bluffton tennis team captured the conference title.
During his sophomore year, his peers elected him co-captain of the basketball team. He was, according to the Ista, "a leader with the team because of his courage in defeat as well as in victory." In football he was dubbed "the general" because he always had the right play at the right time, something rare in quarterbacks, noted Coach Burcky. He also began running track for Bluffton during his sophomore year.
During his junior ye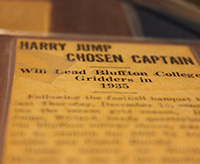 ar, he was listed as the football team's star passer during a 3-4 season; the basketball team soared to new heights with an 11-5 record; and he continued running track. When that year ended, he had earned nine sports letters through three short years.
After three outstanding years as a leader on and off the playing field, it was only natural that he was elected captain of the 1935 football team as a senior. But Jump did not return for a fourth year. It was still the Depression, and he started teaching at Goshen Township High School in the fall of 1935. He taught for three years and in 1938, after picking up the required college courses during the summers, earned his degree in mathematics.
Jump died in 1989.