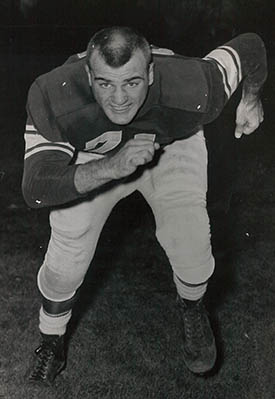 Harry Weibel lettered in football each of his four years at Bluffton despite playing in only two games in 1955 due to an extended bout with pneumonia. He was chosen All-Mid-Ohio League in 1954, 1956 and 1957, and led the 1956 and 1957 teams to league titles. Weibel was an integral part of the 1956 team—which has already been enshrined in the Athletics Hall of Fame—and a captain of the 1957 squad while earning third-team All-Ohio honors and honorable mention All-America recognition.
While attending Bluffton, Weibel was a member of the Ohio Student Education Association, the "Ista" yearbook staff and Big Brothers. He also served as president of his class and the Varsity B club. He graduated in 1958 with a degree in education.
Weibel continued his education at the Cooper School of Art, where he earned a degree in graphic arts with a specialization in advertising. He then moved to Indiana University and completed his graduate work in art education.
His career has included teaching assignments as well as graphic design positions at Kidron Body Co. and Troyer Signs Inc. in Wayne County, Ohio. Weibel has been active in his community as well, serving as a Sunday school teacher, PTO president, Little League coach and nursing home assistant.