The late Hugh Frost graduated in 1951 with a major in social science. Hugh attended Rayen High School in Youngstown, Ohio, and served in his community for many years after graduation.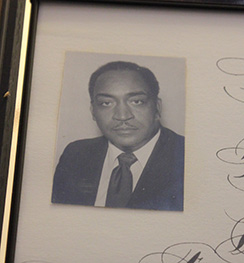 As a student at Bluffton, letters were earned in basketball, football, track and baseball. While his sports activities were varied, most remember Hugh as a football standout. Pro scouts also recognized his ability with tryout offers coming from the Los Angeles Rams, Cleveland Browns, Philadelphia Eagles and Baltimore Colts.
When Frost was asked what Bluffton meant to him, he responded, "it was gratifying that emphasis was placed on implementa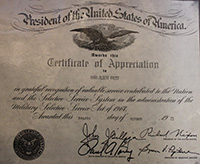 tion of religious beliefs and the development of personal relationships." He added, "Ye shall know the truth and the truth shall make you free."
His involvement in civic activities was wide spread, including serving as vice president of the Ohio Affirmative Action Officers Association. He served as alumni president, advisory committee and Board of Trustee member of Bluffton. In 1967 Hugh was the Republican candidate for mayor of Youngstown, Ohio.
He was recognized in 1974 by the Youngstown State University Student Government Services Award committee for outstanding service provided to the student body of the university. In 1970 Frost was honored by Bluffton with the Outstanding Alumnus Award. Frost died in 1998.