The late Irvin Conrad served as a teacher, coach and administrator in several Ohio schools.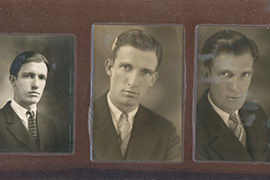 Conrad participated in football, track and basketball in both high school and college, earning seven and six letters, respectively. A history and social science major at Bluffton, Conrad went on to earn his master's degree from The Ohio State University and was named to the university's Sigma Chapter of Phi Delta Kappa.
He began teaching in 1928 in the Van Buren school district and also served as a coach. The following year he went to the Liberty-Benton school district, where he was a teacher and coach for seven years. By 1936 he had worked his way up to district superintendent, and in 1943 he moved to Wapakoneta as high school principal and superintendent.
After spending most of his career in small school districts, Conrad decided to take on the challenge of a high school in a large city. He took a teaching position in Toledo in 1951 and after three years became an assistant principal of DeVilbiss High School. From there he moved up rapidly to become executive director for all 10 high schools in the city. Conrad retired in 1972.
He was past president of both the Rotary Club in Wapakoneta and the Ottawa Park Exchange Club in Toledo.
Conrad looked back on his Bluffton experience as inspirational and informative. "Attendance at Bluffton as a student and participating as an athlete in sports did help to shape my life. A small Christian school located in a beautiful setting, dedicated and qualified faculty, a fine program of studies and activities, participation in sports … helped to prepare me to enter the teaching profession with the proper tools and with confidence that I could succeed."