Jim Benroth played baseball, football and basketball at Bluffton and earned four letters in each sport. As a senior, Benroth was named first-team all-league for his efforts on the gridiron. He also played basketball and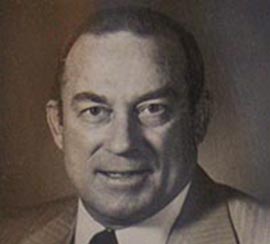 football at Cory-Rawson High School, earning two letters in each sport.
A business administration and economics major, Benroth began work at Marathon Oil Co. after graduation. Beginning as a land man and tax analyst, he took the position of field tax man in Casper, Wyo., in 1965, then returned to Ohio in 1973.
Benroth has been a member of the American Right of Way Association, the Aircraft Owners and Pilots Association and the Ohio Athletic Association. He is an approved Ohio and international basketball official and has been a youth baseball coach.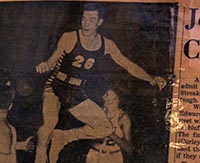 He has also been a Sunday school teacher and superintendent at St. Mark's United Methodist Church in Findlay, where he served three years as chair of the pastor-parish committee.
At Cory-Rawson, he was a member and president of the school board, as well as a Pony League baseball coach and secretary-treasurer of the Hancock County Pony League.
Benroth looks back on his Bluffton experience as inspirational and formative. "I have always been overwhelmed and grat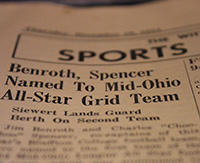 eful how my student life at Bluffton has affected my life. The warm Christian atmosphere always had its positive influence on me. The caring attitude of the faculty was always impressive and has stayed with me ever since. Sports participation was the most impressive for me as I was able to enjoy each sport so much. The friendships and relations with fellow students and opponents were always very enjoyable. This background continued to establish a positive work and participation attitude that stays with me today."