The late James Bishop was a four-year letterman in football, baseball and basketball, earning All-Mid-Ohio Conference honors as a football center in 1955. He was considered the ultimate team player and could play a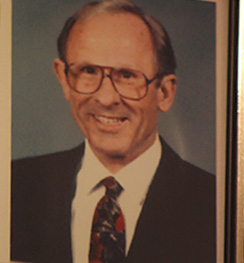 ny of the line positions.
Jim was more than an athlete, though. He was active in musical groups, was on the Homecoming court and, as a senior, was voted Most Popular Man for May Day ceremonies and appeared in "Who's Who in American Universities and Colleges." Bishop was also a member of Student Council, an officer in the Student Christian Association, president of the Bluffton Choir and active in Big Brothers-Big Sisters.
Following graduation, he worked 26 years for General Motors. He then spent 10 years as a regional manager with Electronic Data Systems before retiring.
Bishop was a member of Plymouth (Mich.) United Methodist Church and its finance committee, a volunteer with the local chapter of Habitat for Humanity and, until retirement, an avid golfer.
Bishop died in 1995 following a three-year battle with cancer.