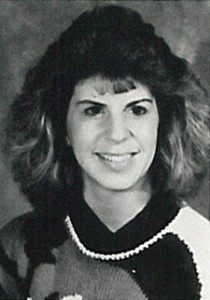 The leader of two Bluffton volleyball teams that are in the Athletics Hall of Fame, Jamie (Knox '88) Beachy was twice named first-team All-Western Buckeye Collegiate Conference and was an Academic All-America selection following her senior season in 1987.
Beachy was a four-year starter on teams that fashioned a 121-42 overall record and captured three conference championships and NAIA District 22 tournament appearances. At the time of her graduation, she held Bluffton records for career kills (641), assists (1,255) and digs (1,227). The Wauseon, Ohio, native still ranks 10th in career assists in the Bluffton record book.
On the volleyball court, Beachy's talent at every facet of the game made her an invaluable member of Coach Kim Fischer's teams. As a freshman, she played a defensive role on Bluffton's 1984 team that went 26-15 and won the WBCC title. She took over setting duties as a sophomore and put up a then-school-record 601 assists as the Beavers improved to 35-6 while collecting WBCC and NAIA District 22 crowns. That 1985 team was inducted into the Athletics Hall of Fame in 1996.
Also a resident adviser and junior homecoming attendant, Beachy was voted a captain for her junior and senior seasons as her role on the court changed to attacker. Both seasons she ranked in the top 10 in the WBCC in kills, kill percentage, digs and even assists.
In 1987, her senior season, Beachy was named the WBCC Player of the Week following her performance in the conference tournament, where she led the Beavers to their fourth title in six years. She also earned all-district honors that year. The 1987 team joined the Hall of Fame in 1998.
After graduating with a degree in math and English education, she taught English at Fairfield Junior High School in Cincinnati for two years and was a stay-at-home mom for nine years. She then became coordinator of the Ohio Reads Program at Lakeside Elementary in Cincinnati, where she tutored second and third graders in reading.