John Brown was a three-sport athlete and one of Bluffton's best all-around basketball players.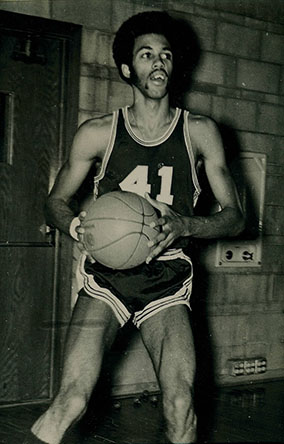 A graduate of Elida High School, he became the first Bluffton men's cager to play 100 games. He is among the Beavers' season and career leaders in several categories, averaging 16.5 points and 10.2 rebounds per game over his four years.
He is on the career lists for scoring, field goals, field goals attempted, rebounds, free throws and free throws attempted. His 23 rebounds against Cedarville are tied for third on the single-game rebounds chart.
The 6-3 Brown normally guarded the opposition's big man, and he was voted the Beavers' best defensive player each year of his career. He was first-team All-Hoosier-Buckeye Collegiate Conference and All-NAIA District 22 in 1972-73, and second-team all-district in 1971-72.
Brown also lettered in cross country and golf at Bluffton. He later coached the men's basketball team while working in the admissions office.
He has been a teacher, coach and administrator in the Lima public school system, including serving as principal at South Middle School. Brown received his master's degree from the University of Dayton and a doctorate from the University of Sarasota (Fla.).
Save