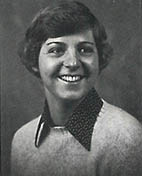 A four-year volleyball standout, Judy (Stutzman '81) Kanagy was among the great players of the late 1970s and early '80s who helped turn the volleyball program at Bluffton into a regional powerhouse.
Kanagy led the Beavers to an impressive 74-41 record (.644 winning percentage) during her four years on the court. In 1979, her junior year, the team was 25-11—Bluffton's first 20-win volleyball season. The Beavers would go on to reach that 20-win plateau in 18 of the next 19 seasons.
A native of Normal, Ill., Kanagy served as a captain for head coach Kim Fischer and also played three years of softball and one year of tennis at Bluffton. In 1981 she was honored with the Kathryn E. Little Award, given annually at Bluffton to the top senior female student-athlete.
After graduation, Kanagy coached volleyball and basketball at Iowa Mennonite High School for one year before heading to Illinois State University for graduate school, where she earned a master's degree in physical education administration in 1983. That same year, she completed an internship at the Lake Placid Olympic Training Center.
Kanagy returned to Bluffton and was a member of the health, physical education and recreation faculty from 1983-86. She coached softball, track and field and junior varsity volleyball; served as softball coordinator for the Western Buckeye Collegiate Conference; and directed the women's intramural program.
Kanagy has also held positions at Camp Friedenswald, America West Airlines, Western Pacific Airlines and Dawn Ministries.