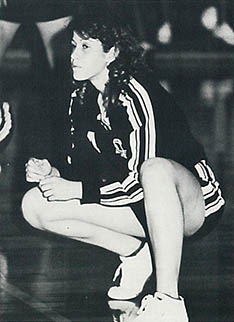 Kelly Patton-Holder was a four-year letter winner in both volleyball and softball, as well as a two-year letter winner in basketball. In 1984 she was a member of the conference-champion softball team and received the prestigious Kathryn E. Little Award for her efforts in Bluffton athletics. For her leadership abilities, she was named captain of both the volleyball and softball teams during her senior year.
Patton-Holder was twice named to the All-Western Buckeye Collegiate Conference volleyball team and, in 1983, was named to the NAIA District 22 team. That year, she had one of the best seasons in Bluffton volleyball history, leading the team in hitting percentage (.845), digs (170), serving percentage (.961) and service reception percentage (.814).
She was also a member of the 1982-83 women's basketball team that has been enshrined in the Athletics Hall of Fame.
After graduating from Bluffton, Patton-Holder taught health and physical education at Lexington (Ohio) High School and also coached the varsity volleyball and softball teams there. Through the first 14 seasons of her volleyball coaching career, she compiled a 225-91 record without a losing season.
She has chaired Lexington's health and physical education department and been a Student Council adviser. At the United Methodist Church of the Cross, she has been a Family Life Committee member and Sunday school teacher.