Olin Baumgartner, a Bluffton graduate who was Ken Altier's high school teacher and assistant football coach, was instrumental in getting Altier to Bluffton, both through a personal loan and arranging work.  From there, Altier went on to become a teacher and counselor of youth.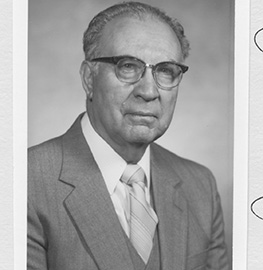 A graduate of Girard High School, Altier was active in extracurricular activities while majoring in social studies at Bluffton. He was a four-year letterman in both football and baseball, May Day chair in 1938, president of Student Council in 1938-39 and Most Popular Man at the 1939 May Day ceremonies. He was also active on The Witmarsum and the yearbook, and in Varsity B.
The 1939 Ista describes his selection as Most Popular Man: "Given the highest honor bestowed upon any man on the campus, Kenneth Altier, senior of Girard, will escort the Bluffton May Day queen to her throne of honor. Altier's athletic prowess on the gridiron and baseball diamond, together with his student government leadership and other activity participation, well merits this popular position."
Upon leaving Bluffton, Altier became chief deputy for the Trumbull County sheriff for five years and then began his teaching career at Newton Falls High School, where he was also a coach and athletics director. He served there 16 years and completed his master's degree from Kent State in 1950.
He returned "home" in 1960 to Girard High School, where he was director of guidance and assistant principal. After his retirement from the school in 1977, Altier served as a trained answerer for Contact, a 24-hour trauma hot line; delivered Meals on Wheels; volunteered for Catholic Charities; and served as a teacher of history and government to the foreign-born who were studying at the International Institute in Youngstown to become naturalized citizens.
Altier said, "My experiences as a student and as an athlete at Bluffton had a major influence on the formation of my adult philosophy. Exchanging ideas with fellow students in Lincoln Hall and coming under the influence of Coach A.C. Burcky have had positive effects on my values and way of life."
Altier died in 2007.