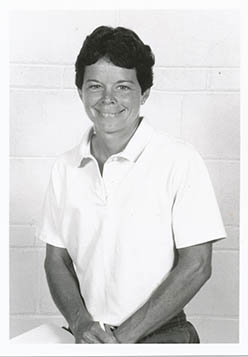 With more victories than any coach in Bluffton history, Kim Fischer took her place in the Athletics Hall of Fame just one year after her departure from campus.
From 1979-97, Fischer guided the Bluffton volleyball program to a 521-229 (.695) record, six Western Buckeye Collegiate Conference championships and one Association of Mideast Colleges championship. She led her teams into postseason action 12 times, capturing NAIA District 22 titles in 1982, 1985 and 1988. Fischer was named WBCC Coach of the Year in 1982, 1984, 1985, 1987 (co) and 1990, and AMC co-Coach of the Year in 1994.
In her 19 seasons as volleyball coach, Fischer's teams recorded at least 25 wins 13 times and at least 30 wins seven times. Her 1985 and 1987 teams are in the Hall of Fame along with her 1988 team, which was inducted with her in 1999. Those three teams combined for a 107-14 (.884) record.
Fischer served as professor of health, physical education and recreation at Bluffton and assumed the title of associate director of athletics in 1985. She also spent 11 seasons as head women's basketball coach, notching 114 victories and one WBCC championship, and six seasons as head softball coach, collecting 78 victories and two AMC championships.