The late Mack Schaffer played football and baseball at Bluffton while earning his bachelor's degree in science education. He received his master's degree in chemistry and education from Miami University, attended Indiana and Bowling Green universities and received a doctoral degree in school administration in 1965. He added a Ph.D. in school administration from Bowling Green State University in 1970.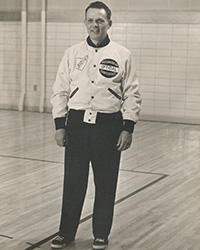 Schaffer began his teaching and coaching career at Leipsic (Ohio) Junior High School, coaching both boys' and girls' basketball for three years. He then moved to nearby Columbus Grove, where he taught high school chemistry and physics for eight years and served as baseball coach and assistant high school principal. He went on to be a supervisor for Putnam County Schools.
Schaffer also remained active in sports as a football and basketball official in the high school, college and professional ranks. He officiated in 15 Ohio high school basketball tournaments, the last 10 in succession. He also acted as the state basketball rules interpreter for 18 years and was a member of the National Federation Basketball Rules Advisory Committee for 15 years. He served a one-year term on the state athletic board of control, in 1972, and was a member of the Northwest District High School Athletic Board.
He also served five years in the Navy during World War II and was discharged as a lieutenant commander.
"As a school man, I have held a great deal of respect for Bluffton," Schaffer said. "The moral, religious and academic training I received from Bluffton certainly shaped my life."
Save