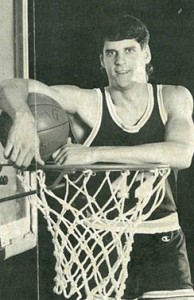 Peter DuMonte holds more Bluffton men's basketball records than any other player, including one that seems unapproachable–scoring in double figures in every game he played (105). He scored 20 points or more in 71 games and 30 or more 18 times. He averaged more than 20 points per game all four years and was selected to the NAIA District 22 first team each year.
DuMonte holds Bluffton career records for points (2,416), scoring average (23.0), field goals made (996), field goals made per game (9.5), field goals attempted (1,810) and field goals attempted per game (17.2).
He has been a teacher in Carey, Ohio, schools and an assistant basketball coach at Tiffin University.