The late Ralph Locher graduated from Bluffton High School and was an active member of the First Mennonite Church. A football player at Bluffton College, he received his bachelor's degree in history in 1936. He then studied law at Western Reserve Law School in Cleveland, earning his law degree in 1939. In 1945 he was named secretary of the Industrial Commission of Ohio, where he served until 1953.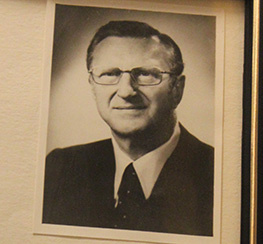 A 10-year member of Bluffton's Board of Trustees, Locher was also a representative to the Council of State Governments. He served as a member of the board of the National League of Cities and was involved with the Central YMCA of Cleveland board.
"Bluffton taught me to appreciate the meaning of a sense of values," Locher said.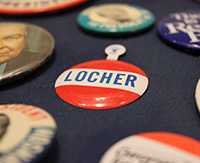 A.C. Burcky, Locher's football coach, remembered him well. "He meant business all the time he played. He was a dandy fellow and a good, solid player."
The 1935 Ista yearbook lists Locher as "a big, rugged forward," and he and two teammates were honored in the 1936 Ista: "We pay due respects for the fine spirit of sportsmanship that they have displayed while under the Beaver colors and to the fine brand of ball that they have played. Some outstanding plays will stand out in our memories which will bring back the days when these players kept vigil beside the Beaver hut."
Locher died in 2004.