The late Reuben Conrad earned one letter each in basketball and football as a Bluffton athlete, but it was in track and field where he was a standout, earning four letters while competing in the 100- an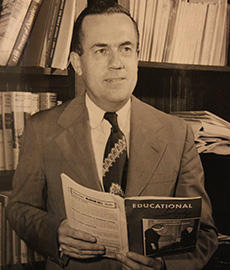 d 220-yard dashes, the long jump, javelin and mile relay. Conrad once threw the javelin more than 166 feet, which stood as the school record for many years. A history major, he also participated in several non-athletic extracurricular activities, including three years in the Men's Glee Club and the Choral Society.
After earning his master's degree in secondary education from the University of Illinois, he was a high school teacher and coach for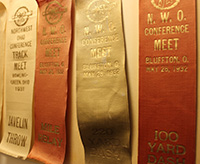 10 years, coaching basketball, football and track.
Conrad then took an administrative position in Arlington Heights, Ill., as coordinator of curriculum and supervisor of instruction, serving for 28 years. At retirement, he received lifetime honorary membership in the state and national Association of Supervision and Curriculum Development.
Conrad officiated football, basketball and track for 25 years on the high school and collegiate levels. He also entered many Senior Olympics—receiving numerous awards in tennis, track and field, basketball free throw and shuffleboard—and participated in square dancing, biking and ballroom dancing. He died in 1998.