The late Roland "Rollie" Swank was captain of the 1928 football team and was chosen as right end on the Northwest Ohio Conference first team from 1926-28. He earned 12 letters overall, four each in football, baseb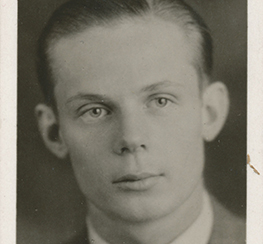 all and basketball.
A graduate of Bluffton High School, Swank was voted best all-around boy in 1925 and was senior class president.
Until 1968, Swank served as junior high, then high school, teacher, coach and principal before becoming superintendent of Elida Schools. He also coached football, basketball and baseball.
Swank was a member of St. Paul's United Methodist Church, Elida, where he was a trustee for three years. He was also a mem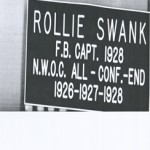 ber of a national association of school administrators and served three and a half years in World War II, attaining the rank of staff sergeant.
Swank said "my experiences at Bluffton have taught me the value and meaning of real dedication as shown by Coach Burcky and many of my professional colleagues. The fine moral tone of campus life set many values that have stuck with me."