Ron Huber has been a teacher and coach whose post-college achievements matched those of his Bluffton days. A graduate of Lima Senior High School who transferred to Bluffton from The Ohio State University, he made his athletic mark in tennis.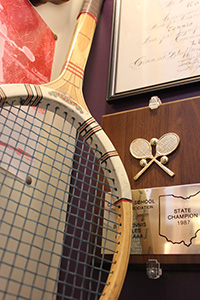 He was undefeated in regular-season play during his college career, with his only loss in the quarterfinals of the NAIA national tournament. He went on to win the Lima city singles and doubles titles several times in the 1970s.
Huber's Shawnee High School tennis teams won 12 Western Buckeye League boys' titles and eight WBL girls' crowns. He coached a state-champion doubles team and a three-time individual state champion. Dozens of his former players went on to play college tennis, many at the Division I level. His high school coaching record was 446-127, at one point the eighth-best among Ohio tennis coaches.
Huber earned his master's degree in educational administration from the University of Dayton and, in 1990, was named Ohio History Teacher of the Year. He retired after 30 years at Shawnee, then returned to Bluffton in 2011 as men's and women's tennis coach.