A first-team All-Mid-Ohio Conference selection at offensive end as a senior in 1959, Ron Lora was a main cog in the passing game on teams that make up the greatest era of Bluffton football.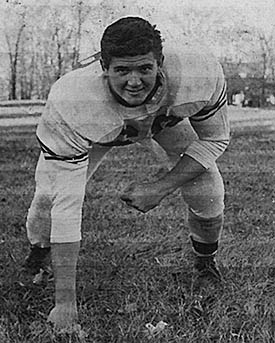 During Lora's four seasons on the gridiron, the Beavers posted a combined 20-0 record in the MOC to win four straight conference championships—a feat that has never been duplicated.
Lora lettered all four seasons and was named a team captain for three of those years. With Hall of Famers Elbert Dubenion and Willie Taylor in the backfield for head coach Ken Mast, the running game took center stage, but Lora was still among the team leaders in touchdowns.
The Bluffton High School graduate also lettered in basketball two seasons for the Beavers and served as president of the Varsity B Club for three years.
After graduating in 1960 with a degree in business administration, Lora spent several years as a coach in the Fostoria school system before returning to Bluffton as a professor of history in 1964. He earned his Ph.D. from The Ohio State University in 1967 and that year moved on to the University of Toledo, where he is now a professor emeritus of history.
The author/editor of several books, Lora is a regular columnist in The Bluffton News and has dozens of published articles and book reviews to his credit. He was a member of the Bluffton Board of Trustees from 1987-2011 and is active in many other organizations.