The late Shirley "Sam" Seymour majored in biology and was a three-year letterman in football. In various editions of the Ista, Seymour was described as "the Painesville Terror," who was one of those lean, lanky tackles who "hit like a brick." Though only 150 pounds, he was called "a real fighter." Several times he was mentioned for outstanding efforts in spite of a team loss. One yearbook paid him and tw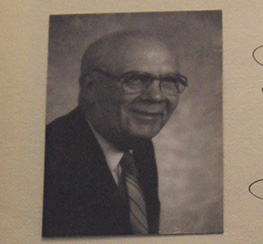 o previous hall of fame inductees, "due respects for the fine spirit of sportsmanship … and to the fine brand of ball that they played."
Seymour became a dentist who served the Painesville, Ohio, area for 39 years following his graduation from the Ohio State University College of Dentistry in 1940. He was a life member of the American Dental Society, serving as president in 1949-50.
Said Seymour of his college experiences: "Bluffton exposed me to quality moral and academic teachings that became the foundation of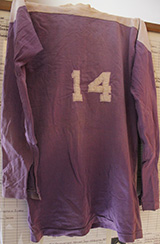 my life. Athletic participation was both a recreational activity and a learning experience." He was secretary-treasurer of Varsity B, Junior Hi-Y adviser and Senior Hi-Y adviser.
Among his civic activities in Painesville were the following: member of the Lake County Planning Commission and chair of the Committee on Subdivision Regulation, chair of the Leroy Township Zoning Commission, director of the Lake County Branch of the American Cancer Society and director and treasurer of the Friends of Marley Library Association.
The Painesville Telegraph, referring to the retirements of Seymour and his brother Raymond, said in 1979: "Professional skill and a rare ability to please the public contributed to the outstanding success of these two dentists. Time and good service have endeared them to their patients. Their decision to continue to live in the county is at least something to be happy about as they slowly fade from the professional scene. The Seymour brothers have earned a happy retirement. Their friends and the people who have known them as 'Doctor' won't forget them. They did their profession well and were a credit to downtown Painesville."
Seymour died in 1997.