Theodore W. "Ted" Cunningham earned letters in football, basketball, tennis and baseball.
Cunningham was captain of the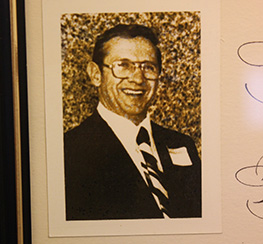 1929 football team and was named to the all-league team from 1927-29.  At one time, he held Bluffton records for the longest punt return for a touchdown (90 yards against Findlay in 1928) and the most passes intercepted in one game (five against Cedarville in 1926).
Cunningham was also selected for the all-league basketball team in 1927 and 1928 and, in tennis, was league singles champion in 1927, 1928 and 1930, as well as team captain in 1928 and 1930.  He was president of Varsity B in 1929 and 1930.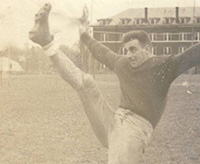 After receiving his bachelor's degree in biology, Cunningham turned to teaching and coaching in Ohio public schools, where he served for 41 years until retiring in 1971.
After teaching and coaching football and basketball at Painesville junior high and high schools, Cunningham spent 24 years as a biology teacher and later assistant principal at Lakewood High School. He served as biology department chair from 1943-60. While at Lakewood, he received the Outstanding Science Teacher Award for Northeastern Ohio (1960), was selected a Fellow of the Ohio Academy of Science (1961) and was listed in "Leaders in Science" (1963). He also coached varsity baseball for two years—guiding his team to a co-championship of the Greater Cleveland League in 1938—and junior high football for 23 years, with a record of 106-40, plus 13 ties.
"When I came to Bluffton College, it nurtured and strengthened my beliefs, which have been the strength and wisdom of my life," Cunningham said.