Terri Blosser graduated from Bluffton in 1987 with a bachelor's degree in health, physical education and recreation. She earned four letters as a stand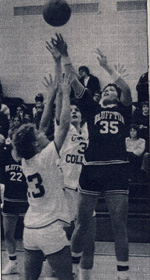 out volleyball player from 1983-86. Blosser's 1985 volleyball team was enshrined in the Athletics Hall of Fame in 1996. She was also a three-year letter winner on the basketball court.
Blosser received the Kathryn E. Little Award her senior year for her athletic achievements. She was also honored with the HPER Outstanding Scholar Award upon graduation from Bluffton. In 1993, Blosser completed her master's degree in physical education at Bowling Green State University.