Tina Verhoff '85 returned to the Athletics Hall of Fame in 2000 after being inducted in 1998 as a member of the 1981-82 women's basketball team. For her second induction, though, Verhoff stood alone based on her historic career on the court.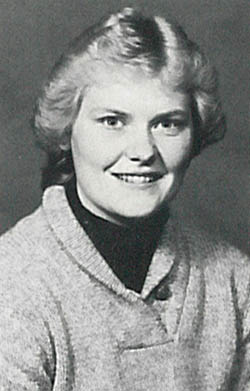 Verhoff lettered four years for Bluffton and helped lead the Beavers to a .500 or winning conference record each year. She was a first-team All-Western Buckeye Collegiate Conference selection her junior and senior years and earned honorable mention NAIA District 22 honors both years.
Her junior season, in 1983-84, was arguably one of the greatest ever recorded by a Bluffton women's basketball player. She set school records for points (368), points per game (16.0), rebounds (200) and assists (137). All those marks still rank high in the record book. She also led Coach Kim Fischer's team in steals and free throw percentage that season.
On Feb. 21, 1984, against Siena Heights in Founders Hall, Verhoff connected on 11 of 12 field goal attempts, good for a .917 field goal percentage that still stands as the best single-game shooting display in Bluffton women's history. She led her team in field goal percentage her freshman, junior and senior seasons.
Verhoff's 535 career rebounds are seventh all-time and her 953 points rank eighth. She was also an Academic All-Ohio selection her senior year and went on to earn a master's degree in education from Wright State University in 1991. After teaching junior high school science and coaching volleyball and basketball for nine years, she became human resources manager for TRI-STAR Community Counseling Inc. in Lima.